a modern-day, down-to-earth daily devotional for women.
Thursday, January 17, 2019
Hey, sis. That New Year smell is starting to evaporate already, ain't it?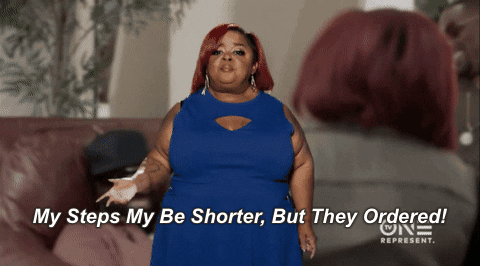 The start of a New Year brings about a new exhaustive list of resolutions, the stamina for which is usually depleted by mid-March. The gym crowds die down around mid-February. And you go right back to replying to those "WYD?" texts at 1 a.m. Oh, that's just me? Fine.
Verse of the Day: The steps of a good man are ordered by the Lord: and he delighteth in his way. Though he fall, he shall not be utterly cast down: for the Lord upholdeth him with his hand.  (Psalm 37:23-24)
A year can lose its newness fairly quickly, I've found. You can easily find yourself running through the same loop, sorting the same dysfunction, battling the same procrastination, struggling up the same mountain … in a New Year.
First off: I invite you to break the habit of confusing Your New Season … with the New Year. If for no other reason than because it's way too much pressure. Maturation takes time. Your Season is triggered by your spiritual alignment. Your New Year … is just a date on a calendar. Be clear, baby girl.
Don't rush your manifestation in an attempt to keep up with a man-made construct of "time." You're on God's time. You can't be late, sis. It's impossible.
I'm deeply familiar with all these feelings, all these cycles. So I opted to approach 2019 with a little bit more wisdom, a little bit more caution. Praise God for all the sisters who reset their entire life at 12:01 a.m. on January 1, but as for your girl … oh. I'm still in reflection mode and I ain't mad about it.
Right now, I'm gaining more understanding of the cycles that brought me to 2019. Why they're important. What to glean from them. And what to leave behind.
Ordered steps. That's been the motto lately. Order. My. Steps.
I put a vision board together for the first time … in 2014. My ambitions were grandiose. My resources and my work ethic … not so much. That was the first and last time I sat down with a glue stick and poster board, looking like an overgrown kindergartener, mapping out a pretty collage of the life I hoped for.
That's just it: It was MY vision on the vision board. MY goals. MY aspirations. My vision board was a wish list that I presented to God. You know what I realized? Not once did I consult Him. Much less did I ever desire to give up ANYTHING to align myself with Him. I wanted God to bless and prosper and manifest … MY plan (see Jeremiah 29:11).
And then, something terrible happened: He did. God manifested MY plan. God allowed many of the things I THOUGHT I wanted to come to pass. And I was still unhappy. I still felt loss. I still felt unfulfilled. 
I stopped creating vision boards. So I could pause to ask God, "What's your vision for me? Order my steps."
The steps of a good man are ordered by the Lord: and he delighteth in his way. Though he fall, he shall not be utterly cast down: for the Lord upholdeth him with his hand.
I never thought there'd come a day where I would ask God … for order.  Until I realized this: God UPHOLDS that which He orders.
In Genesis 1, when God created the heavens and the earth,He provided a model for how He does business. When He establishes order, He brings with it clarity. And where He establishes order, He establishes strategy. When God orders your steps, He also makes Himself the foundation for them. When God orders your steps, He provides insurance for the steps you take so that even if you get down, you don't stay down. When God orders your steps, your steps aren't limited by life conditions or worldly opposition.
So, in 2019, I'm asking fewer questions about the destination. Your steps … are only as established … as your foundation. Jesus, be a foundation. All 2019. 
Even if you're taking baby steps, you want them joints to be ORDERED! Let's pray it out right quick, sis: Father, in the year ahead, I ask you to order my steps. Give me Divine direction. Grant me clarity. Uphold me with your hand. Even when obstacles blur my path, light the way ahead of me. And infuse my spirit with Divine navigation. That I might fulfill every purpose you've placed on my life. For your glory. In Jesus' name. Amen.
Please reload